AMAZON FOR $9.99
I have managed to riddle my way through the internet matrix of publishers and shipping websites to finally be able to offer "Know the Time Change Your World" for $9.99 on Amazon. See link here
It is now six years since  the book was published. I have few regrets, the book has many layers of meaning, the simplest being that each year has a different pattern or rhyme from the creation story of Genesis 1. However from time to time I find a reader who would have benefited greatly from the chart below. I came up with this visual after the book was published and I realized the third part of the book was not landing for many readers as I had hoped.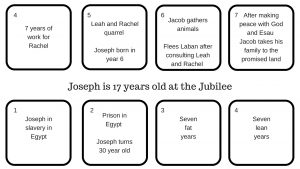 Each of the eight boxes on this chart represents seven years, or in total for all eight boxes, fifty-seven years from the second half of Genesis. The number in the upper left corner of each box corresponds to the pattern of a specific day of the creation story. This chart when used with the third part of "Know the Time Change Your World" helps explain how it was that Joseph knew the meaning of Pharaoh's dreams.
This visual can also be used in the current environment. After we establish our current location in the 50-year cycle, we then have a pattern / rhyme for our current moment time. In other words, this tool can help us understand the patterns of current events from a biblical perspective.
One more important point. The last 40 years has given us some amazing 7-year events (Not coincidences in my opinion) However, because this appears to be the sixth 7-year cycle since the reset/Jubilee of 1979-1980, I highly recommend everyone pay close attention to the 50-year cycle. For example a study of the events 50, 100 and 150 years ago will reveal a rhyme for current situations. There is a reason this is very important over the next decade. I will try to write more on this down the road but do not focus solely on the Shemitah (7-year) be certain to notice the effect of the Jubilee (50-year) for the next few years. 
The secret things belong to the Lord our God, but the things revealed belong to us and to our children forever, that we may follow all the words of this instruction. Deuteronomy 29:29